Back when schools had to pivot to a fully remote model, one of the top concerns among teachers and parents was ensuring that students stayed engaged, on task and focused on the lessons at hand. While the situation proved to be far from ideal, we did get some valuable takeaways about how students learn best, namely that keeping distractions and background noise to a minimum was a top priority. 
Whether your scholar is learning in-person or remotely, one of the most practical and affordable ways to achieve this goal is through the use of headphones or headsets for school classrooms. These handy, portable and versatile devices help minimize background noise and distractions, allowing for clearer focus and improved concentration. Here are our top five recommendations for school headphones and headsets that give you the most for your money.
Avid AE-36 Classroom Stereo Headset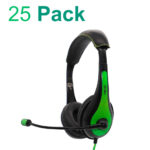 Who says learning can't be fun? With many colors available, students can express their personality and style while staying on task. The headset and speaker can be controlled from one jack, which makes them lighter and easier to carry. The Avid AE-36 school headset works with a variety of computers and tablets, including Chromebooks, without the need for extra attachments, and the sound quality makes it easy for a student to hear what's going on in their interactive app, audiobook, game or other educational learning aid.
AVID AE-42 Headset With Inline Microphone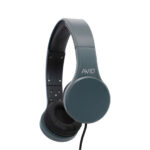 A durable headset is a must for younger students who don't tend to take good care of their school supplies. This school headset has been designed to withstand the abuse that is common in classrooms, from being dropped to cord chewing. It is not only durable, but also stylish and functional, and it can be adjusted to fit the needs of each user. As a bonus, it is easy to clean, so it is perfect for enhanced sanitation requirements.
Cyber Acoustics AC-6012 USB Stereo Headset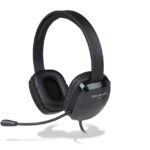 This comfortable headset can be worn all day with its padded headband and padded earphones. It is also durable enough to be used in a classroom setting with multiple students. The surface is easy to clean and sanitize, and the volume control is easy to locate and adjust, making it a great choice for students of all ages.
Soundnetic SN250M Disposable Stereo Bulk School Headsets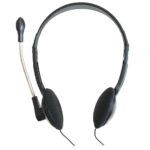 A lightweight option, the Soundnetic disposable headset is affordable and ideal for adhering to cleaning and sanitation standards. The headsets are designed to be used for personal use, so teachers can give one to each student for the entire school year, rather than have to worry about cleaning and sanitizing a class set of shared-use headsets between uses. The stereo speakers make it easy to hear audio, and the headset is compatible with many different tablets, phones, and computers. 
ThinkWrite TW120 Ultra Ergo USB Headset
This headset is comfortable and durable, with an ergonomic design helps students perform at their best without straining to see or hear. One of its best features is that it was specifically designed to limit exposure to damaging frequencies, which is beneficial to young ears. In addition to audio recording, testing, and a variety of classroom applications, it is extremely versatile.
School headsets are available in so many affordable and durable models that there is a headset for every student. They can be used for test-taking, homework, distance learning, or other purposes, and can be easily cleaned between uses. Be sure to take a look at these top five choices when shopping for headphones or headsets for school classrooms.